Bostik TruColor Urethane Grout
Bostik TruColor Premium, Pre-Mixed, Urethane Grout is a patented, water-based, grout offering the ultimate in color accuracy, water resistance, and stain and crack protection. This breakthrough formulation installs up to 50% faster than traditional grouts, and never needs to be sealed. Its perfect balance of flexibility and toughness enables it to exhibit unmatched performance. Unlike other grouts that contain loose color pigments which can cause staining or be washed away during the installation process, TruColor quartz aggregate is color coated to ensure perfect color consistency every time. TruColor contains antimicrobial protection, which inhibits the growth of bacteria, mold, or mildew on the surface of the dried grout and enables it to resist stains caused by mold. Suitable applications include interior and exterior, residential and commercial installations with ceramic, porcelain, glass, metal and natural stone tiles on floors and walls in dry to intermittent wet or submerged applications. It can be used in horizontal (floor) grout joint widths from 1/16" to 1/2" and vertical (wall) grout joints from 1/16" to 1/4".
Product Benefits:
●Premixed, for fast, easy installation
●3 day intermittent water exposure
●No powdered pigment additives
●No color fading, streaking or shading – even when wet!
●Does not contribute to efflorescence
●No sealing required ever!
●Chemical and stain resistant
●Re-usable (when stored properly in original container)
●UV stable – colors will not yellow, darken or fade
●Easy water clean up
●Non-sag formula ideal for vertical surfaces
For even more information on Bostik TruColor, check out this quick video:
https://www.youtube.com/watch?v=OO3b_KUo1Gw
Click here to purchase our Bostik:
https://www.stoversliquidation.com/tile-flooring/b...
FAQ
Q: What is urethane grout?
A: Urethane grout is premixed and comes in a bucket that is ready for you to start using as soon as you open it. With urethane grout, you open a bucket, stir it to fold in any of the urethane polymer that's separated during shipment and immediately get to work. Cement-based grout is a powder you mix with water. If you add too much water, you can significantly reduce the final strength of the grout. Cement-based grouts are dusty when you pour and mix them.
Q: Does urethane grout fade or yellow over time?
A: No, one of the many benefits of urethane grout includes having even, long-lasting color. The pigments in the urethane grout are a special coating that's permanently bonded to each of the fine sand particles. The finished colors of the grout are solid, colors that are ultraviolet stable. They will not yellow nor fade when exposed to harsh sunlight that might stream through a patio door. Pigments in traditional grouts are powder additives that colorize the cement which then coats the silica sand. It can wear off over time. You'll see this on older grout floors as the sand particles look white or a light color.
Q: How does Bostik TruColor compare to traditional cement grouts in terms of color consistency?
A: Bostik TruColor provides unparalleled color consistency. Unlike other grouts that contain loose color pigments which can cause staining or be washed away during the installation process, TruColor quartz aggregate is color coated to ensure perfect color consistency every time.
Q: Can I use Bostik TruColor in wet places like my shower?
A: Yes, but it will have a longer curing time than if you were to use it in a dry area. There is a recommended 7-day minimum wait period before exposing the grout to moisture.
Q: How long does it take Bostik TruColor to dry/cure?
A: Depending on the area, anywhere from 3 to 7 days. Light foot traffic is acceptable after 24 hours, heavy foot traffic and normal cleaning takes 3 days, and wet areas such as showers can take up to 7 days. It is recommended to contact a Bostik representative before using in wet areas in order to maintain the warranty.
Q: Bostik TruColor is much more expensive than traditional cement grout. Is it worth the extra cost?
A: We certainly think so. You'll discover that the urethane grouts are more expensive than the cement-based products. However, factor in that the urethane grouts are more flexible than traditional grout. If there is slight future movement, a cement-based grout will usually develop a hair-line crack. The urethane grout may be able to withstand that stress without cracking. Additionally, urethane grout is the most user-friendly, it comes premixed, and you're able to save whatever grout you don't use for another project another day. You ultimately save your money, time, and sanity by using Bostik TruColor.
Q: I have glass tile, will Bostik TruColor scratch it?
A: It shouldn't, however we do recommend testing the grout on the tile before using it. There have been instances where Bostik TruColor has scratched glass, however this is normally only a problem due to user error. Should you want to use grout that is specifically geared towards glass, we recommend you try out Bostik Dimension, which is made with round glass particles in it to give it a unique shine.
Q: What colors does Bostik TruColor come in?
A: Bostik TruColor can be purchased right here at Stover's Liquidation in the following color options: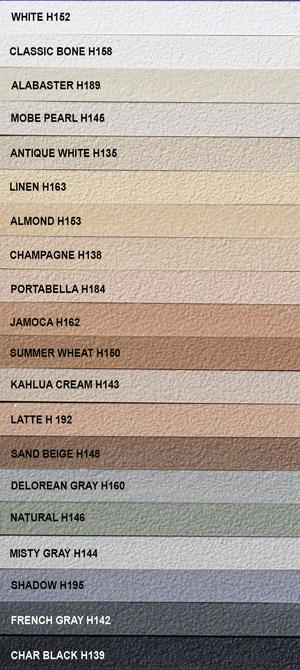 Q: What is grout haze?
A: Grout haze is caused when tile is installed and the grout is not completely removed from the tile surface after the project is complete. This leaves the tile looking like there is hazy layer on top of the tile, often taking away the shine and finish of the tile.
Q: Is grout haze common?
A: Yes, but in almost all cases, it is easily removed. The best way to avoid haze is to follow the instructions as closely as possible.
Q: How can I remove the haze?
A: Most common household ingredients or a commercial tile cleaner will do the trick.
The best time to remove grout haze is within 24 hours of completing a grouting project; however, it is possible to remove haze even days or weeks after the tiling project is finished. Here is a short video with easy-to-follow instructions for any degree of grouting haze:
https://www.youtube.com/watch?v=4MN6Hwp11U4
Q: Do you have any products to get rid of grout haze?
A: We do! You can buy haze remover right here at Stover's Liquidation by clicking on this link here. If you have any questions or comments, feel free to contact us at 855-543-5159.