Flooring Marketing – Be leery of flooring products that are promoting and showing their flooring products installed over poor subfloor conditions as shown below. In my travels, I see many flooring displays showing that their flooring can be installed over subfloors in absolute poor condition or existing floors also in poor condition.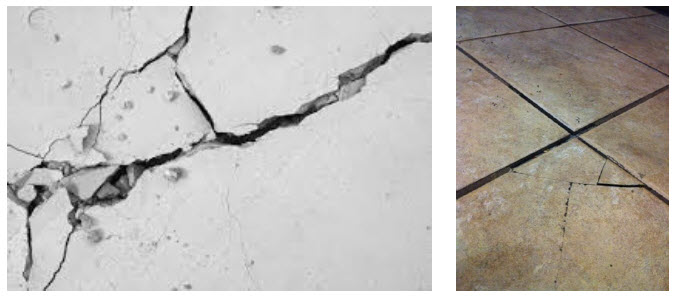 But, when you dig into their installation requirements you find that what they are promoting does not correspond to what their installation requirements and warranty require. See below:
PRE-INSTALLATION SUBFLOOR REQUIREMENTS
All Subfloors must be:
 Dry
 Structurally sound
 Clean: Thoroughly swept and free of all debris
 Level: Flat to 3/16" per 10-foot radius
Ceramic tile, resilient tile and sheet vinyl must be well-bonded to subfloor, in good condition, clean, and level. Brand C cannot be held responsible for site conditions. Brand C is not responsible for flooring failure resulting from unsatisfactory jobsite and/or subfloor conditions.
As you can see, Brand C is promoting going over poor subfloor conditions and an existing floor also in poor condition. But their installation requirements differ from what they are showing. The subfloor requirements for Brand C products are no different than any other flooring product on the market; Clean, Dry, Flat and Structurally Sound.
Everyone is looking for that edge with their flooring products. Just remember, you are only as good as
what you go over. If you go over a poor subfloor or flooring condition, expect poor performance from
your floor, regardless of the quality of the new flooring product.
Installers:
The flooring industry is seriously facing a shortage of installers as the older installers are retiring and
younger installers are not around. I feel everyone has apart in the blame of this.
I was recently talking to an installation manager about a certain flooring product and his first words
where "I wish I could get the labor rate down". The flooring industry is a market where most installers
are making less money than they did 10 years ago. Minimum wage workers at McDonalds and
Walmart are getting pay increases and the flooring installer is being asked to take less. Most
Commercial and Residential Builder work is based on the lowest bid to get the job. Cost has to be
taken from somewhere so the contractor can still make a profit.
The other factor is that many of the new flooring products today are easier to install and take less skill
than the flooring products 10 years ago. Products are self-sticking, floating, clicking or locking and
require less skill and less sundry (adhesive) products which should reduce the installation cost.
Years ago, the installer could be a one trick pony and be an expert in one flooring product. Today, in
order to work on a regular basis you better know how to install many products.
Installing flooring is a very physical job that takes a toll on your body and we are on a declining pay
scale. I think the answer is pretty clear why a lot of people don't want to be installers?
Two products I always have with me when installing LVT/LVP, Hardwood, and Laminate;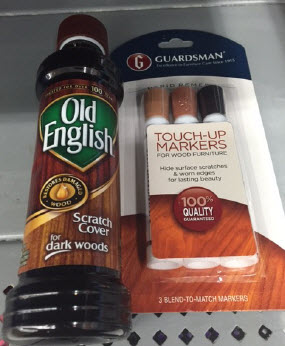 The Old English Scratch Cover is excellent at covering up scratches. Wipe on with a cloth or rag and then buff off the remaining residue. I actually did a test several years ago where I drug a cement block across an LVT product then covered up the scratches using the Old English Scratch Cover and it worked well. The Guardsman Markers I use on larger repairs or when I have to darken or color an edge of a board that has been cut. Both of the products can be found at a grocery store, I found these at Walmart and for less than $10 for both.